Kulturforum Sud-Nord seeks to collaborate with other organizations that have similar goals, no matter where they are located. We also help organizations from outside Benin to produce their projects, for example conferences, symposiums and general research with the help of our staff and logistic facilities.
Kulturforum Sud-Nord is a member of the association Regard Benin, which was founded in 2011 in Cotonou to realize regional and international events of the contemporary arts, for example the Biennial Regard Benin. see www.regardbenin.net
Kulturforum collaborates since December 2011 with the faculty of Art History at the University Abomey Calavi, Benin. In the framework of a curatorial laboratory, 10 of the senior students programmed and realized the exhibition "Take, Take, Take and..?" coached by Stephan Köhler and Georges Adéagbo for the Biennial Regard Benin 2012.
Organizations with whom we collaborated in the past and/or are preparing collaborations:
African Artists Foundation, Lagos
Artisttik Africa, Cotonou
Chimurenga, Capetown
CTL Presse, Hamburg
Free University, Berlin
Galerie Cecile Fakhouri, Abidjan
Goethe Institute, Johannesburg
HFBK University of Art, Hamburg
King Amachree Arts Academy, Cotonou
Laboratorio arts contemporains, Cotonou
Meiji Gakuin Daigaku – Meiji University, Tokyo
Nubuke Foundation, Acra
Ouadadah, Porto Novo
Rawmaterial Company Dakar
The National Print Shop, Porto Novo
---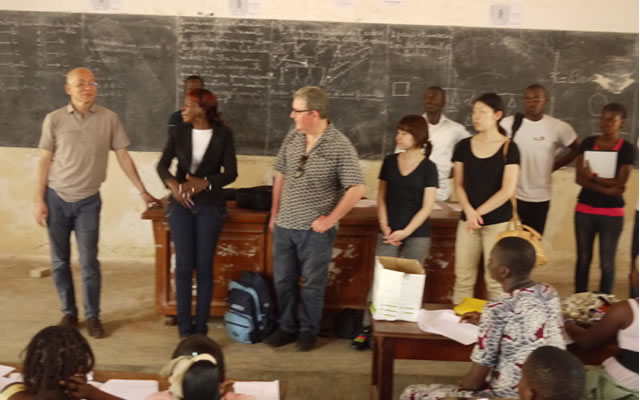 Delegation from Meiji Gakuin University Tokyo at the University of Abomey Calavi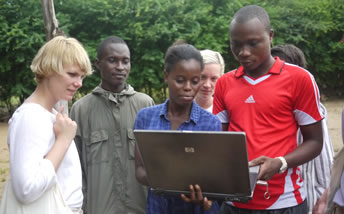 Students of the University of Art Hamburg and students of the Art History Department University of Abomey Calavi – Cotonou.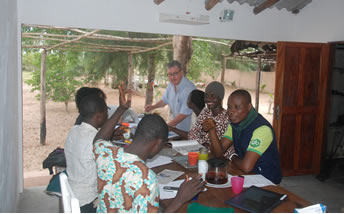 Curatorial meeting of art history students at Kultur Forum center iv